Description
INTRODUCTION
This DFRobot Bluetooth Bee Bluetooth wireless module adapts XBEE design. It has a compact size, the pinout is compatible with XBEE which is suitable for all kinds of microcontroller such as Arduino who have 3.3V power out, also the module supports AT commands for parameter setting. (
NOTE:
ط¢آ 
You have to use a XBEE adapter for parameter setting. )ط¢آ 
ط¢آ 
The Bluetooth Bee modules comes with an on-board antenna, the antenna provides better signal quality. It acts like a transparent serial port, which works with a variety of Bluetooth adapter and Bluetooth phone.ط¢آ 
ط¢آ 
The module has been tested with all the Bluetooth adapter on the market matching to use (with the Bluetooth, including laptops and mobile phones).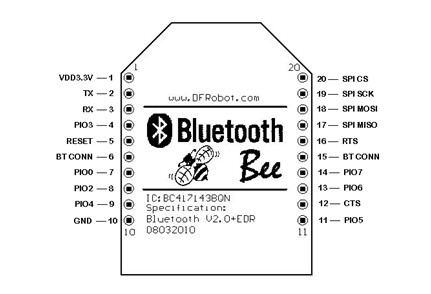 SPECIFICATION
Bluetooth chip: CSR BC417143ط¢آ 
Bluetooth protocol: Bluetooth Specification v2.0 + EDRط¢آ 
USB Protocol: USB v1.1/2.0ط¢آ 
Operating frequency: 2.4 ~ 2.48GHz unlicensed ISM bandط¢آ 
Modulation: GFSK (Gaussian Frequency Shift Keying)ط¢آ 
Transmit Power: أ¢â€°آ¤ 4dBm, Class 2ط¢آ 
Transmission distance: 20 ~ 30m in free spaceط¢آ 
Sensitivity: أ¢â€°آ¤-84dBm at 0.1% BERط¢آ 
Transfer rate: Asynchronous: 2.1Mbps (Max) / 160 kbps; Synchronous: 1Mbps/1Mbpsط¢آ 
Safety features: Authentication and encryptionط¢آ 
Support profiles: Bluetooth serial portط¢آ 
Serial port settings: 1200 ~ 1382400 / N / 8 / 1ط¢آ 
Baud rate default: 9600ط¢آ 
Pair: 1234ط¢آ 
Input Voltage: +3.3 DC/50mAط¢آ 
Operating temperature: -20 أ¢â€‍ئ' ~ +55 أ¢â€‍ئ'ط¢آ 
Module Size: 32 ط£â€" 24 ط£â€" 9mmط¢آ (1.26 x 0.9 x 0.35in)