Description
DFRobot BME680 Environmental Sensor is a low power gas, pressure, temperature & humidity sensor based on BOSCH BME680 sensor. It is a 4-in-1 multi-functional MEMS environmental sensor which integrates VOC (Volatile Organic Compounds) sensor, temperature sensor, humidity sensor and barometer.
With DFRobot Gravity BME680 Environmental Sensor, you can monitor 4 environmental parameters simultaneously at the most. It is designed for
air quality monitor
, and due to the MEMS technology, BME680 has a small size and low power consumption. It can be widely used in environmental monitoring, home automation and control,
Internet of Things (IoT) wearable device
,
GPS enhancement
, etc.
DFRobot Gravity BME680 environmental sensor provides a Gravity I2C connector, plug & play, easy to connect. With onboard voltage regulator IC and level translator IC, DFRobot Gravity BME680 environmental sensor shows good compatibility. It can be directly connected to 3.3V and 5V systems. Moreover, there is also a SPI connector in reserve for further expansion projects.
With the development of industrialization, air pollution is getting worse and worse. Toxic chemical odors are even common with new furniture. These invisible killers are destroying your health day by day. You do need to concern about your health as soon as possible and DFRobot Gravity BME680 environmental sensor can help make an air quality monitor. DFRobot Gravity BME680, take good care of your health!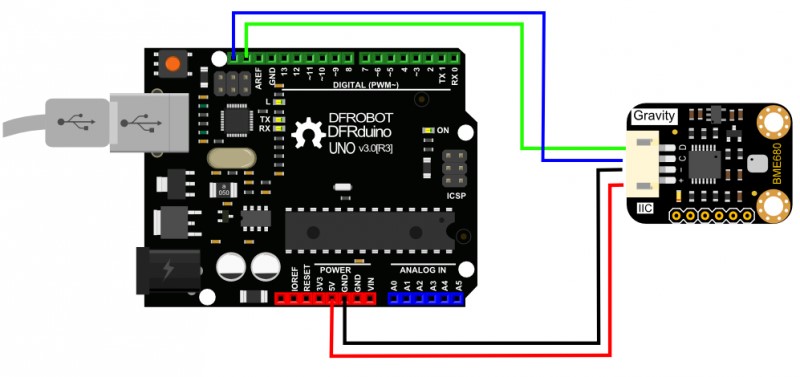 Note:
The IAQ(In-Door-Quality) calculation function is only supported on
FireBeetle ESP8266 Microcontroller
.ط¢آ