Description
This 5MP camera board is the new member of the Spresense family. It uses a compact high-resolution 5m pixel camera to expand the function of the main board. The Spresense camera board has the Sony ISX012 image sensor mounted together with a lens. The Sony ISX012 has an effective pixel count of 5.11M pixels and an onboard encoder that can acquire pictures in JPEG, Y/C or RGB format. The camera board is directly connected to the main board through a dedicated parallel interface, which can be combined with the AI functions of the main board to provide advanced visual functions for IOT devices.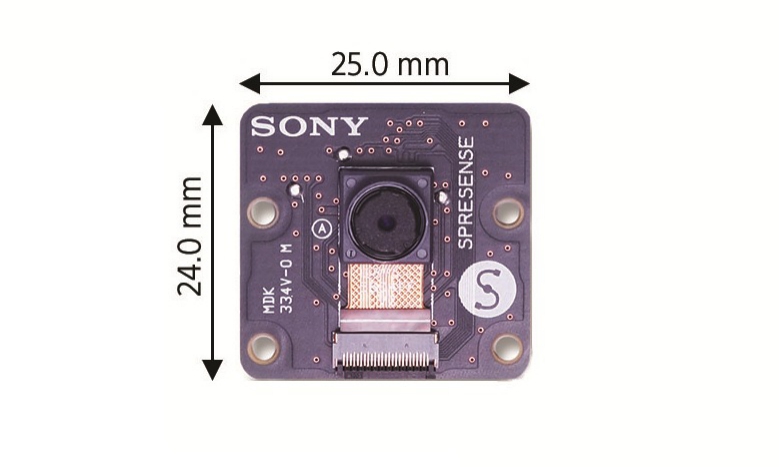 How to connect and prepare the Spresense main board and Spresense camera board
Cautionط£آ¯ط¢آ¼ط¥طŒSince the camera module is very sensitive to static electricity it is advised to discharge any static electricity from the body before handling the camera module. This can be done by touching a grounded part, like a grounded computer chassis. Static electricity can cause the camera module to malfunction. The lens of this camera is covered with a small translucent blue plastic film. This is for protection, please remove it before use. Please be gentle when removing the protecting plastic film.
The camera module is connected to the main board (CN5) via a flat cable. The picture below shows how the flat cable is supposed to be mounted. The flat cable can only be inserted in one way to work so it is important to take note on which side it should be connected on.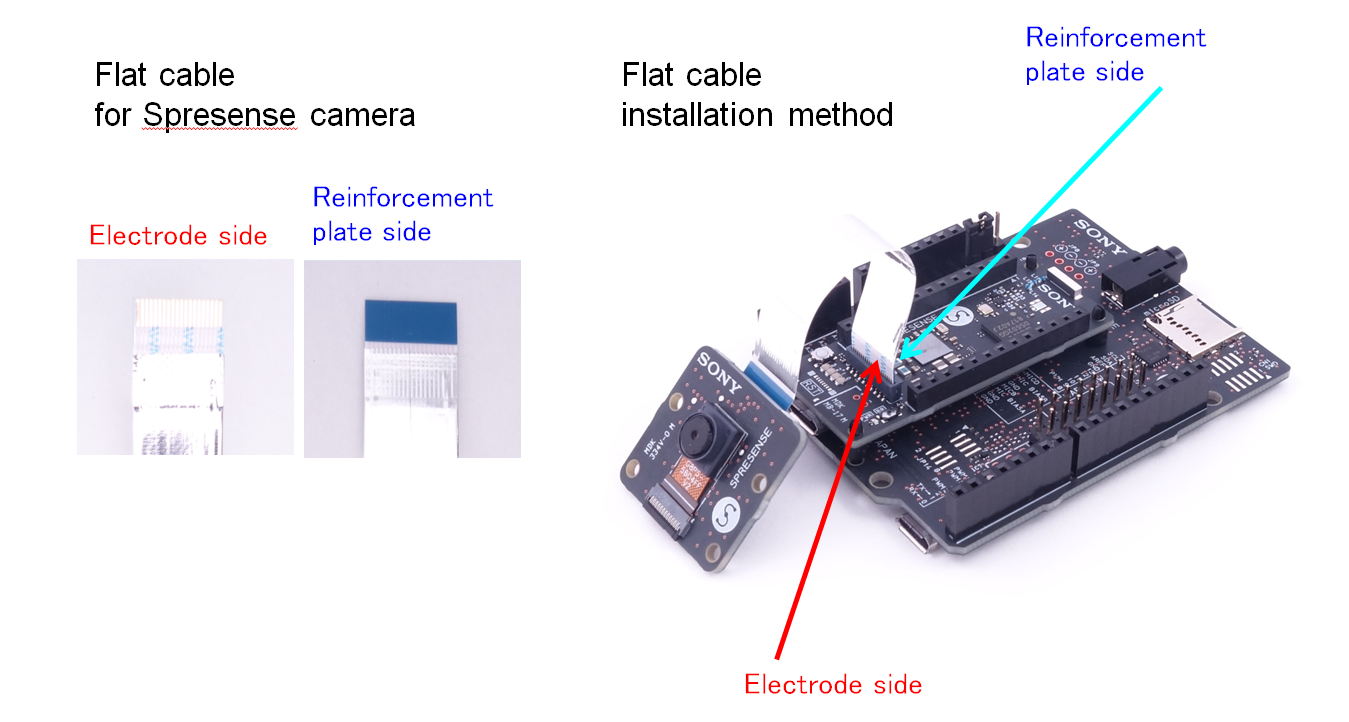 About the flat cable on the Spresense camera board side
The flat cable connector on both the camera board and main board is rather fragile, it is advised not to insert/remove the cable more than necessary.
Please follow the instructions below when inserting/removing the flat cable.
When pulling out the flat cable:

A. Apply a uniform force to both sides of the lever of the connector, slide the lever slowly and horizontally and pull it out horizontally.
B. Pull out the flat cable.
When inserting the flat cable
C. Insert the flat cable firmly into the connector. The electrode side of the flat cable should be facing away from the PCB. See image below.
D. Apply a uniform force to both sides of the lever of the connector and slide the lever slowly horizontally and push it in parallel with the board.