Description
SPRESENSE is a low-power board computer for the IoT that is equipped with a GPS receiver and supports High-Resolution Audio codecs. The board allows for IoT versatility and can be developed for a vast range of uses, such as a drone utilizing the GPS and high-performance processor, a smart speaker utilizing High-Resolution Audio recording and playback as well as the built-in full-digital amplifier, or a low-power time-lapse camera utilizing the camera interface. SPRESENSE will make the IoT smarter and more efficient.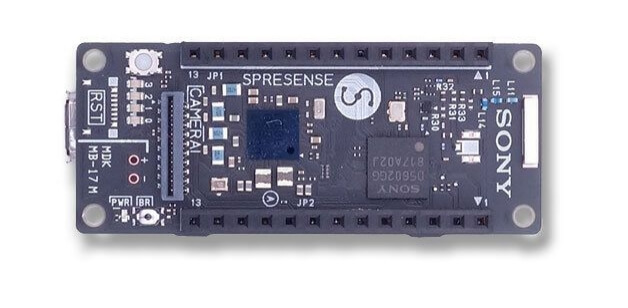 Spresense combines multi-core and power efficiency.
Multicore microcontrollerط¢آ ط¢آ 
Powered by Sony's CXD5602 microcontroller (ARMط¢آ® Cortexط¢آ®-M4F ط£â€" 6 cores) with a clock speed of 156 MHz.
The advanced power management of Spresense enables battery powered solutions.
Support for GPS, QZSS and GLONASS with integrated onboard antenna.
High resolution 192kHz/24bit audio codec and class D amplifier.
Dedicated 8 bit parallel interface for Sony's own 5M resolution CMOS sensor.
Multiple mic inputsط¢آ ط¢آ 
Supports up to 4 analogue and 8 digital channel microphones at 192kHz/24bit.
Ideal for professional use cases on the edge
With its unique combination of solid computing ability and advanced power efficiency, Spresense is ideal for edge computing. In the use cases below, the Spresense board is featured in solutions where there is a need for sensor analysis, image processing and data filtering in which other microcontroller based alternatives fall short.

Agriculture Tech
Industrial IoT
Smart cities
Smart meter reading
Spresense SDK
The C-based Spresense SDK is open source and comes with full documentation, tutorials and sample projects.ط¢آ The SDK is based on the real-time OSط¢آ NuttXط¢آ which is similar to the Linux framework. Depending on the requirement for each project, the main board can be equipped with optional add-on boards with extra features such as BLE, camera board and accelerometer sensors.
Additionally, Spresense has also support for the Arduino IDE for quick prototyping and testing. The Spresense Extension board makes the Spresense development board compatible with selected Arduino shields.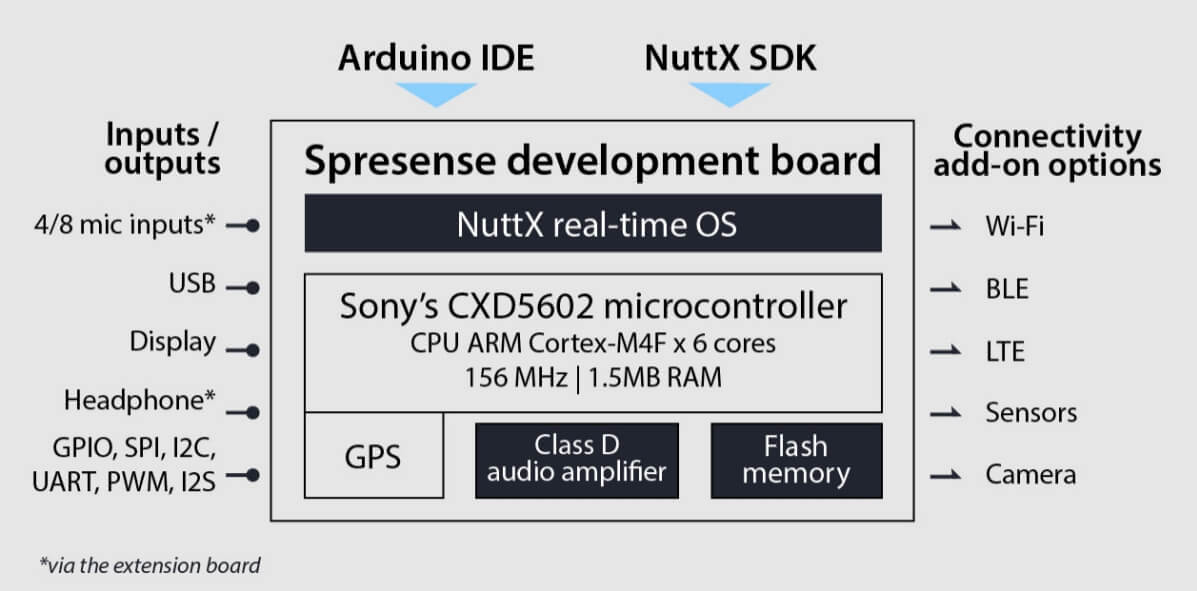 Powered by Sony's CXD5602 microcontroller
Despites its compact footprint of only 6.5 x 6.5 mm, Sony's CXD5602 microcontroller runs 6 ARM Cortex-M4F cores with a clock speed of up to 156MHz and has an integrated GPS. Thanks to theط¢آ FD-SOI (Fully Depleted Silicon On Insulator) production process, the CXD5602 chip is very power efficient which enables battery dependant use cases. The CXD5602 microcontroller is available for volume orders in case your company is interested in developing your customized PCB solution.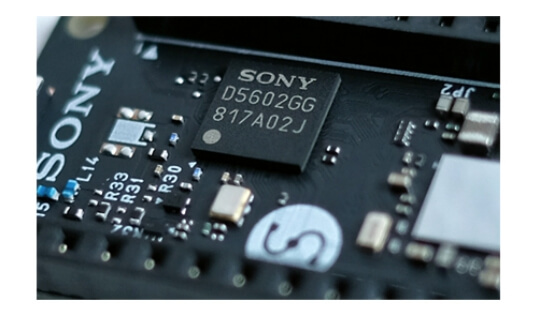 Spresense Compalison To Other Platforms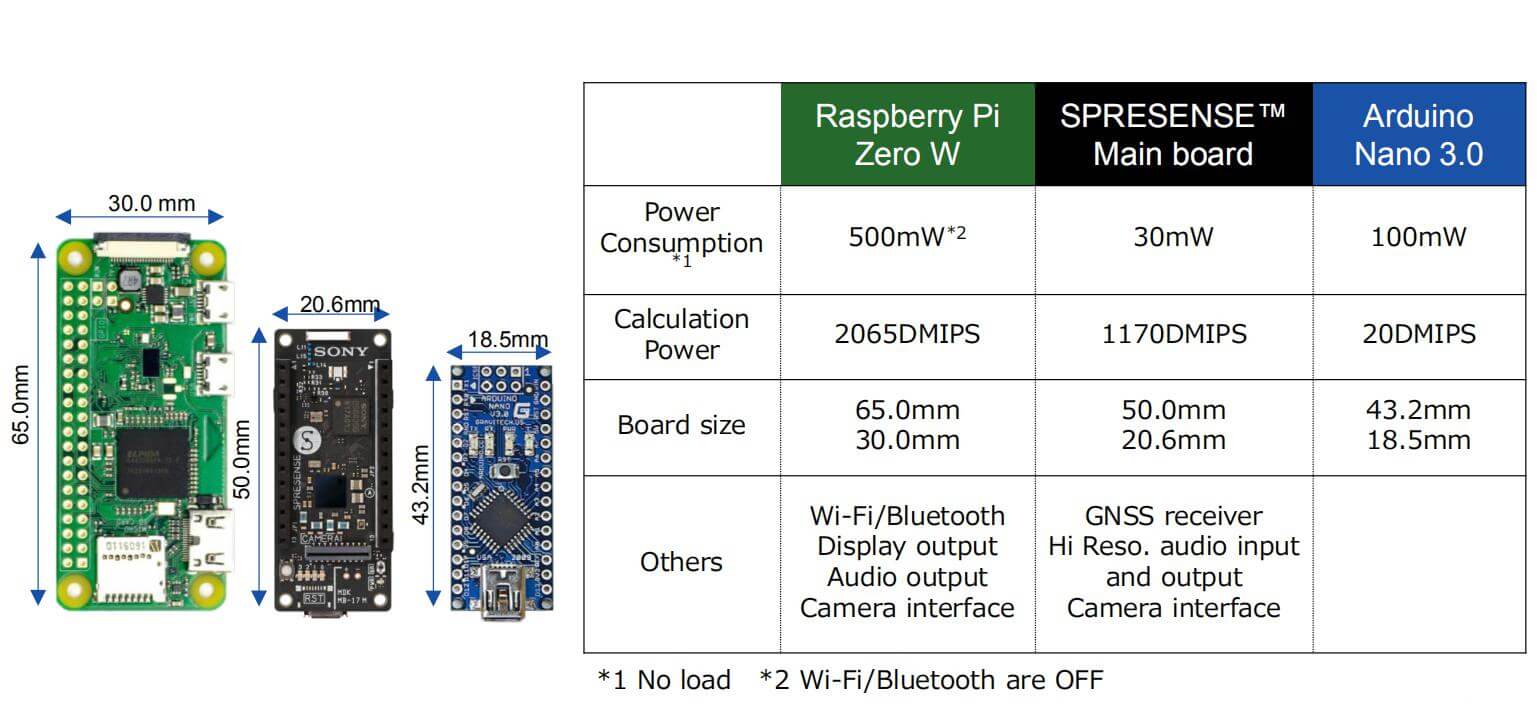 Spresense Main-board Pinout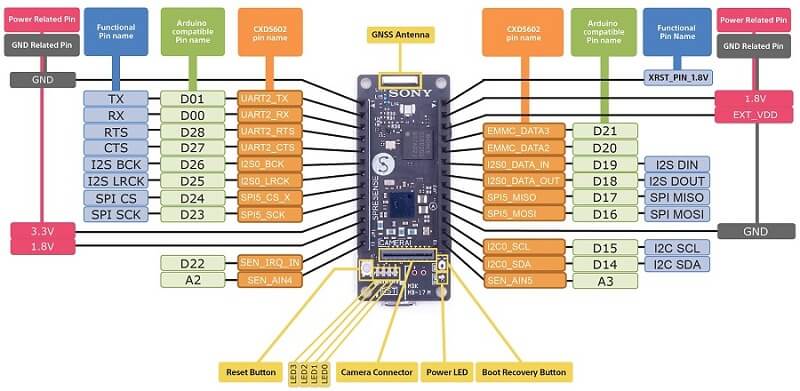 The following schematic block diagram shows the main board design: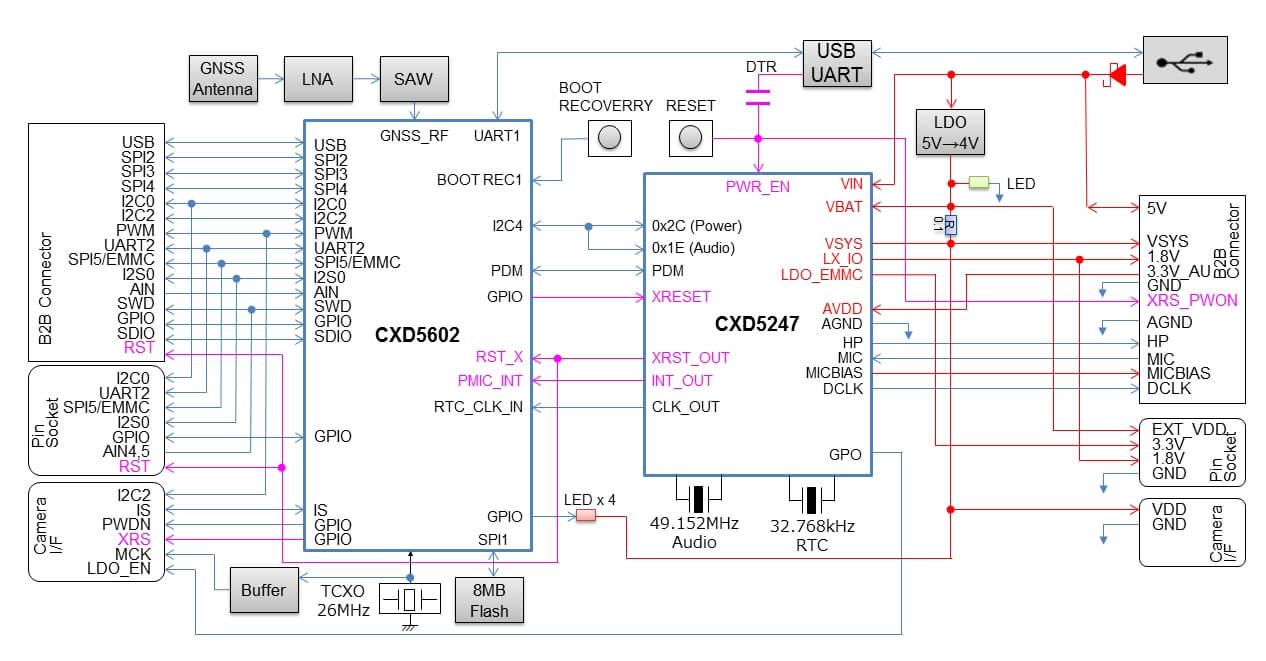 SPRESENSE Chip Set (CXD5602/CXD5247) Main Features