Description
TOF Sense is a TOF-based (Time of Flight) laser ranging sensor that offers 1cm-5m detection range, 1mm resolution, ط¢آ± 1.5cm error, and 10Hz data update frequency. The
sensor
supports 15 ط¢آ° ~ 27 ط¢آ° adjustable FOV, UART and CAN communication (selected by setting). Besides, it allows users to actively query the output data, making data acquisition much easier. With a size of 35.58 * 12 * 8.05mm, this small and compact sensor can be used as a distance-measuring tool for distance detection, a robot to avoid obstacles, and can also be used in drones areas such as altitude setting and route planning.
Detection Diagram
The difference from other ranging sensors is that this sensor reserves two identical communication interfaces. When setting IDs for each sensor and connecting multiple sensors in series, the ranging information of all sensors can be read by just one communication interface.
Note:The UART interface supports a maximum of 8 cascades, and the CAN interface supports 7 cascades at most. Under cascade distance-measuring, it is suitable for UART query, CAN query, and CAN active output.
Cascade Distance-measuring Diagram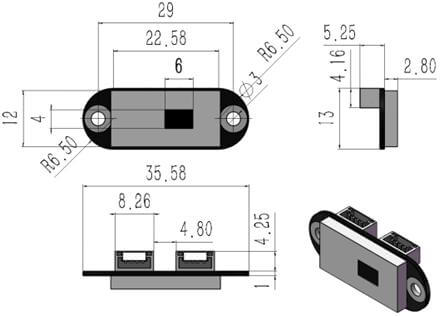 Dimension